I have been involved in sports betting for quite a while. I think for around 10 years. I had ups and downs, but never managed to find that right strategy to start winning some decent money. We all know bookmakers make loads of money as around 98% of punters lose in a long run. I had my winning streaks followed by losing my whole bank later on. I just could not find right approach to start winning. Lack of discipline also played its negative role after some won bets. I had stopped placing sports bets for a while when I was realizing that this game can't be won just to start it all over again a bit later. Several weeks ago I decided to apply another strategy. The basics are:
1. I am betting on football games.
2. I am betting on home teams.
3. I am creating multiple bet with 5-7 games (sometimes even 10 games).
4. And the most important, I am betting against very weak teams with 4-5 away game losing streak.
I know some of you will say there is nothing new in this approach and odds are way too low to even bother. However, when you put together 5-7 games together, you get a multiple bet where you can multiply your bet by 3-7 times. Most important, you have very high chance to win. Just look at my recent results below:
I know I broke the rule in this one and bet on one away game, but this is something I want to talk about later one – discipline.
Here I did everything right and won 321.50 Euro net.
This one also went right and I netted 479.50 Euro. One bet got voided since the game was postponed. Otherwise, I would be looking at some 650 Euro net profit. 🙂
If you bet 50-100 Euro, you can win some decent money with this strategy. Obviously, you won't win all the time. Some will be lost. I had some bad luck as well. Check images below: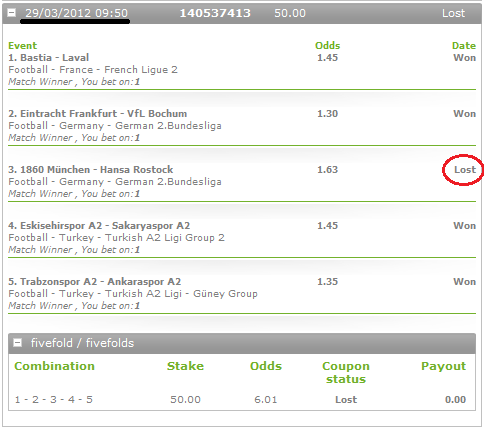 I was close to winning all 3 above bets, but did not. I did not get disappointed since I knew I was on the right track. I analyzed my mistakes and will make adjustments for next bets.
Things Not To Do
I mentioned discipline above. Do not get carried away when you win. Stick to the formula. I wasted some money when I won first several bets. I started betting on some big teams, but failed over and over again. When teams like Milan play some average team at home, we all think that Milan will probably win. However, average teams are capable of pulling a draw. These kind of teams can score. Weak teams with losing away streak and goal difference, for example, -17 in last 5 games (3-20) has no chance even against middle table teams.
So, stick to the formula. If you can't find right bets for today and tomorrow, then DO NOT BET! You will lose money. I know how exciting it is to bet and follow the games on daily basis, but this is the direct way to failure. Bet only on games you are 100% confident in.
Also, do not think that you can bet on any home team with odds like 1.20 without checking stats. Please, do not do it! You have to check form of the teams and head-to-head results.
How To Select Games
Ok. We have to follow the following rules.
1. We bet on home team.
2. We bet against very weak away team with losing streak or very bad away record in last 5 games. When analyzing the form of home team, you can ignore their negative results against teams that are higher in the table. When analyzing the form of away team, be warned if lost 4 out of 5 last away games and the only victory was against one of top teams.
3. We have to check head-to-head games in last couple of years. Be warned if weak team was stronger in head-to-head games.
If you think away team has no chance after analyzing all the data, place it in your list of multiple bet.
I use 3 resources to find right games. First, I check www.soccervista.com and check "Bet of the day" section. You can find some good games there. Make sure you check all the stats though. Pay attention to games with rating 9 and 10 on home team. Second, I use www.flashscore.com. I go through the tables of leagues that have some games scheduled for the day and try to find weak teams by checking away stats. Once I find a potential game, I head to www.soccerway.com where I find that match and check the home form of home team and away form of away team as well as head-to-head results. Only then can I make a final decision.
Where To Bet
Right now, I place bets at Betsson. Bookmakers have wide range of bets to choose from so you can make 2-3 reliable multiple bets every week. You can also check our official rating of bookmakers and choose the bookmaker you think is right for you. Good luck!